Innovative eco-friendly recycling technology
for lithium-cobaltion battery
From laboratory to mass production, UWin Naonotech has already been developing an eco-tech recycling program for lithium ion battery (LIB). Additionally, they cooperated with many recycling companies from Taiwan, France, China, and Singapore to run the tests of LIB. Through discharging, scrapping, sieving, and grinding pre-treatments, then the metals would be leached from the battery's powder by UWin's innovative techniques, which is fast, lower cost, mild reaction, less air pollution and higher leaching rate.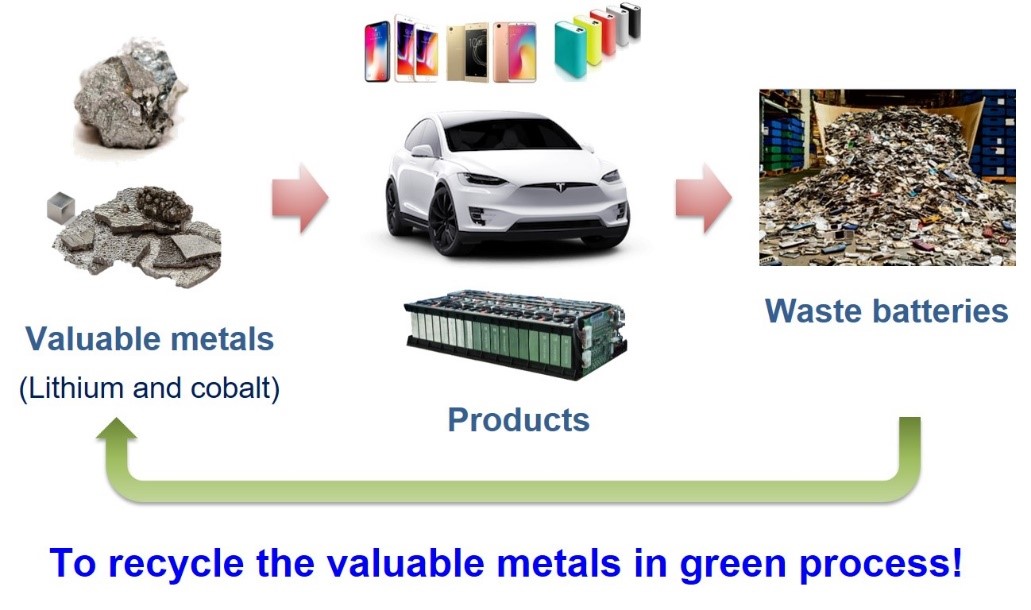 In this process, it can reach over 99% leaching rate for the lithium, cobalt, nickel and gold. It can be gained the profit around 10,000~17,000 USD by treating one ton of battery powder. Furthermore, the suitable strippers help to reduce the amount of acid chemical and the integration of bottom-up techniques is used to solve the problems of waste gas, waste water and waste solid. UWin provides the total solution to get valuable metals effectively and make them become the new materials or products. Therefore, you can have your own those resources to enhance your competitiveness.
Kenny Hsu, the Managing Director of UWin, indicated that the demand and price of LIB had been rising because of the rapid development of Electric Vehicle industry (EV). Many OBMs (Original Brand Manufacturers) or ODMs (Original Design Manufacturers) have been developing the LIB, such as Tesla, BYD, Gogoro, Kymco and the others. Nowadays, the price of cobalt is near 95,000 USD, which has increased four times in two years. Moreover, the experts show that the cobalt demand would be over 325,000 tons in 2030. So, how to recycle the waste LIB with better performance becomes the global issue to be resolved for every company.
On the other side, cobalt mining is one of the highly concerned issue. Over 50% cobalt are from Democratic Republic of the Congo (DRC). However, it has been classified as conflict mineral in view of many problems like the domination by private military, terrible working conditions and the severe child labor issue. Based on the concept of green chemistry, UWin has dedicate to exploring the eco-tech strippers to recover the precious metals, non-ferrous metals and rare earth metals. Last but not least, they emphasize the importance of 4E (Engineering, Environment, Economy and Energy) and promote cradle-to-cradle design concept to achieve the goal of sustainable development and implement circular economy.